On the seventh day of Navratri, Maa Kalratri is worshipped. Kalratri is one of the most violent form of Maa Parvati. She is the destroyer of darkness. Her carrier is a donkey and has four hands. She holds sword and hook weapon on the left two hands and the right two hands are in Abhaya and Varada Mudra. The sixth Navratri is celebrated for Maa Katyayani.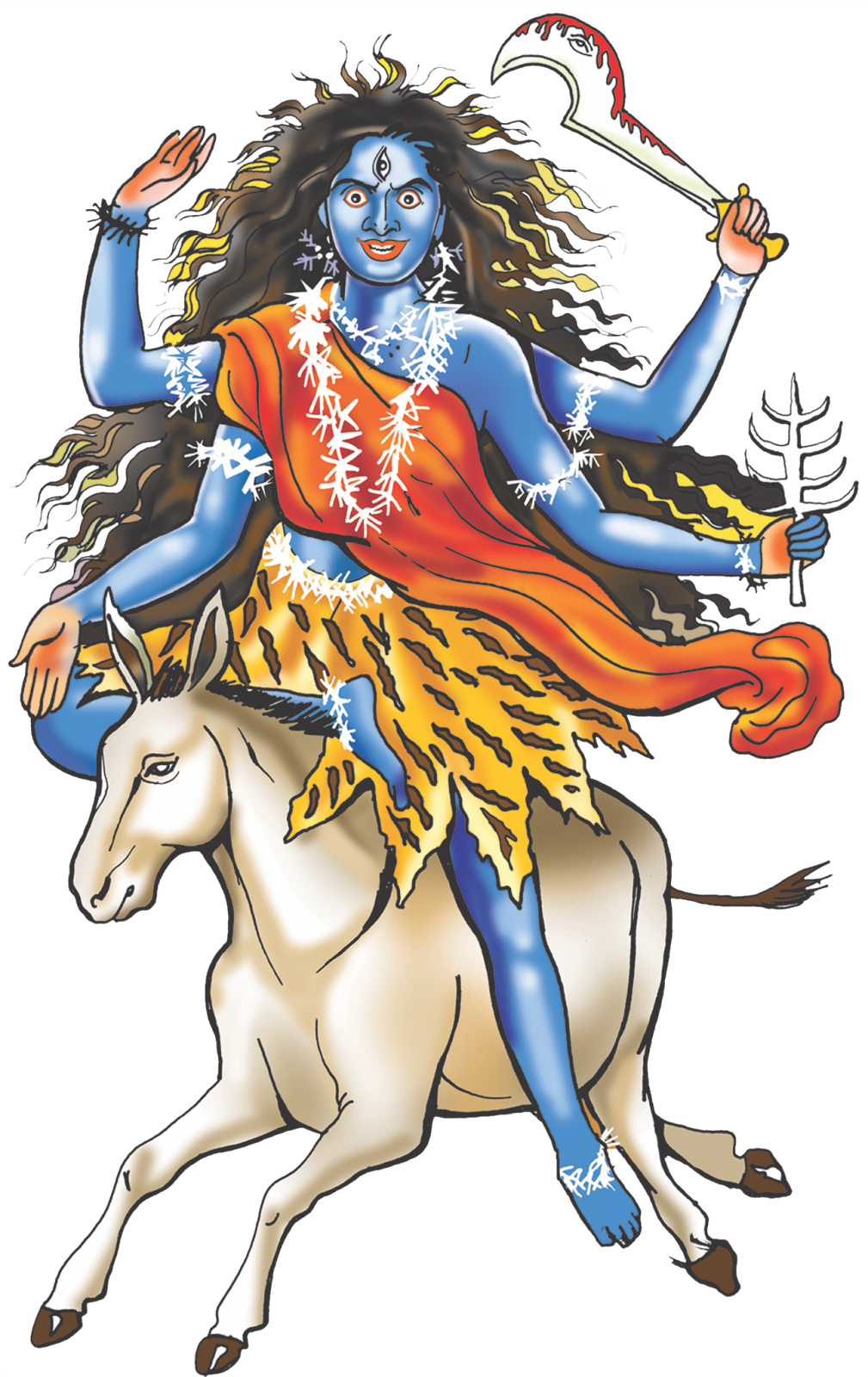 According to Hindu scriptures she is the destroyer of Shumbha and Nisumbha the two demos who captured the entire Devlok. The King of Gods, Indra was very badly defeated and to get their place back they urged Maa Parvati. Maa Parvati sent Maa Kalratri to destroy both demons.
It is believed that if Maa Kalratri is worshipped with full devotion then any problem related to ghost or fear of supernatural will go away.
Symbol
Maa Kalratri is the destroyer of evils and demons. She is the symbol of winning of right over wrong.
Mantras
एकवेणी जपाकर्णपूरा नग्ना खरास्थिता।
लम्बोष्ठी कर्णिकाकर्णी तैलाभ्यक्त शरीरिणी॥
वामपादोल्लसल्लोह लताकण्टकभूषणा।
वर्धन मूर्धध्वजा कृष्णा कालरात्रिर्भयङ्करी॥
Ekaveni Japakarnapura Nagna Kharasthita।
Lamboshthi Karnikakarni Tailabhyakta Sharirini॥
Vamapadollasalloha Latakantakabhushana।
Vardhana Murdhadhwaja Krishna Kalaratrirbhayankari॥
Colour & Flower
Maa Kalratri is worshipped with red colored flower and clothes. Jaggery can also be offered to her. Offer a garland of lemon and lit a lamp in front of Maa kalratri.